Presentation & body language skills - online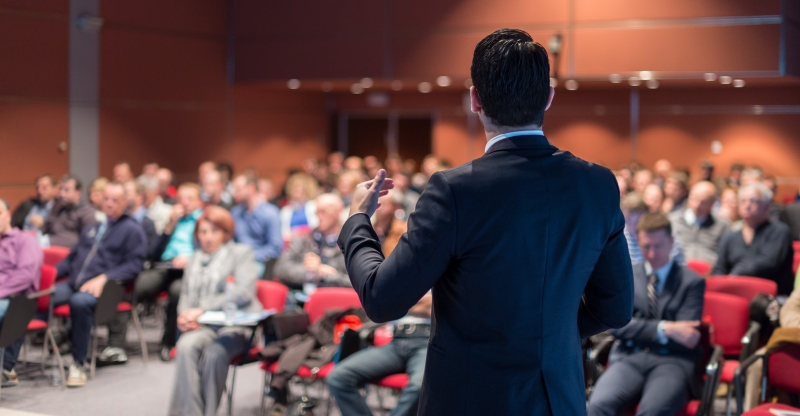 Presentation & body language skills - online
Next scheduled date: To be determined
Duration: 3 sessions of 2,5 hours + e-learning

Register for this training
Overview
Not feeling confident while presenting can ruin your message. Your feelings will directly reflect in your body language and your voice. The audience might misunderstand and your story does not have the impact it should have. How can you deliver your message with maximum impact? In such a way that you are at the same time, feeling comfortable and professional, so your audience really hears your message? To be able to do this, one has to learn how to use his/her voice and body language in such a way it fully supports the message.

Improving your body language and other presentation skills will enhance your public speaking, your career and personal life.

The COVID-19 pandemic calls for a different approach in exchanging knowledge. That is why you can now attend this course online, by attending our virtual classroom with interactive e-learning assignments.
If on-site training is not permitted, we will transition to an online (virtual) format. If this transition is necessary, we will contact you in advance for your approval.
Intended for
This intensive course is designed for everyone who is selected to represent their company for small to large audiences or teams. Think of situations such as team meetings, scrum meetings and (external) project meetings, but also public speaking at symposiums, conferences and fairs. From either giving a keynote presentation or lecture, to presenting a paper or the company's products.

After attending the virtual classroom, you will be able to present your message in a much more effective, relaxed and professional way.
Methods
The training will be held completely in a virtual classroom together with e-learning assignments on our LMS platform. Limited size groups ensure a positive and effective experience. This is why we offer this online training for groups of up to six students.

Our Virtual Classroom is an attractive alternative to a classroom environment. In the virtual classroom the trainer works intensively together with the participants, a unique face-to-face e-learning experience. It provides an opportunity to learn and practice skills without being physically present at our training facilities. All you need to participate in one of our Virtual Classrooms is a computer with internet access, integrated audio and webcam.
Participants work, just like in a classroom: in break-out rooms, do exercises individual and together, do role plays, give and receive feedback and there is a constant guidance of the trainer. Through the intensive, interactive character of the online virtual classroom sessions, the durance of each session is limited to 2,5 hours, with a long break inbetween the sessions. In addition, the platform Canvas offers a large number of e-learning exercises that match your level and includes extras such as relevant articles, tests and books.

You will always stay with the same trainer and the same group. This leads to a relaxed and friendly atmosphere and your trainer will be able to give you continuous feedback.

In your Virtual Classroom, you will benefit from our method with specially trained teachers while profiting from the advantages of online-teaching. As much practicing time as you need is guaranteed!

Make your communication training convenient, engaging and more fun than you thought possible!
Certification
Participants will receive a digital High Tech Institute course certificate for attending this presentation skills training.