Strijp T Project - renovation of TAQ Building
matching company roadmap & creating an exceptional working environment
The Settels Savenije Group of Companies relocates to Strijp T at the beginning of 2017. In close cooperation with GEVA Vastgoed, the TAQ building is to be renovated and a new factory built. Formerly a part of Phillips, the TAQ building, constructed in the distinctive architectural style of industrial buildings in the 50's, used to house water-purifying installations linked to the former Philips factories at Strijp.
Crucial for us at the Settels Savenije Group of Companies is the fact that our new premises directly link our research & design activities to the industrialisation, manufacturing, assembly and testing of the modules and equipment we supply to our OEM customers. This both boosts quality and increases speed in all phases of our projects. It matches our technology and business roadmap.
Equally important for our group is the fact that these premises give us the opportunity to create a working environment for our employees which is very inspiring and truly exceptional: surroundings which connect to the old industrial heritage of Philips. As you set foot inside these premises you cannot help but "feel and smell" the roots of technology. Moreover its location is quite unique. Placed in one of the few industrial zones that remains in the centre of Eindhoven, it is right at the edge of what is called the "Green Corridor of Brabant."
GEVA Vastgoed see this project to be the start of various future projects in this industrial zone. GEVA's aim is to make Strijp T an industrial estate combining impressive industrial heritage and architecture with modern industrial facilities.
Paul Goltstein (BO2.nl) and Niels Olivier (OlivierArchitect.nl) are responsible for the architectual design of this project. Harm Resink is responsible for interior design.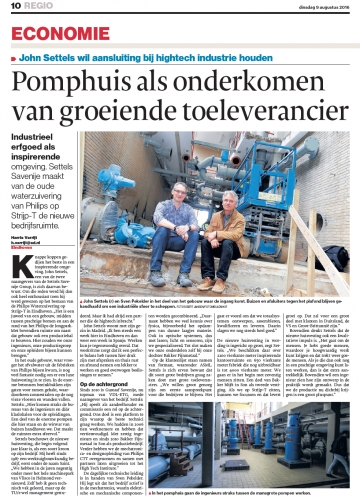 TAQ facilities expanded with 5.000 m2 in 2019
The Settels Board has approved budgets to extend our TAQ premises with 5.000 M2, and has reached an agreement with project development partners. The total volume at TAQ will come to 8.000 M2. Highlights of the expansion are 2.000M2 for precision parts manufacturing, 600 M2 class 7(6) cleanroom, a modelshop for fast track manufacturing, optical assembly etc.. Precision Parts manufacturing is expected to move from its current building @ Ekkersrijt to TAQ in July 2019.