Design principles masterclass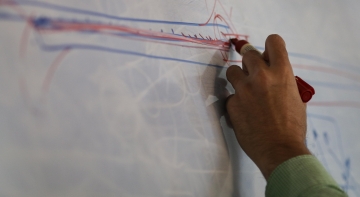 Design principles masterclass
Next scheduled date: To be determined
Location: Eindhoven
Price: € 2.495,00 excl. VAT
Duration: 8 morningsessions

Register for this training
Overview
Within high tech companies many designers are dealing with mechanical, optical and mechatronic challenges. The complexity of their design challenges can be big, which makes it difficult to guarantee design solutions at a satisfactory level.

In this master class designers bring their personal design challenge with them. Together with experts in the field and the other course participants they bring their challenge to a solution. Before the start of the programtrainers and participant meet and discuss the design challenge they would prefer to tackle. Our experts focus on composing the right mixes of course participants and how to deal with confidentiality aspects in an adequate manner.

During the master class experts from various disciplines will be invited to add specific knowledge to the program.
Programme
During 8 morning sessions participants will be working on their design challenges. Participants will learn:
The relevance of design culture the working environment, which links to quality and respect for craftsmanship.
The impact of out of the box thinking and how to stimulate this
To think in a mechatronic way with overview on all aspects of a design challenge
To recognize relevant stakeholders in their working environment, to gain support for their solutions;
The impact of high level design reviews
The art of reviewing itself
Elements of requirements management and the relevance of in details specification, before thinking about design solutions.