newsitems
dutch Crown prince visits VDL-ETG
2013-01-25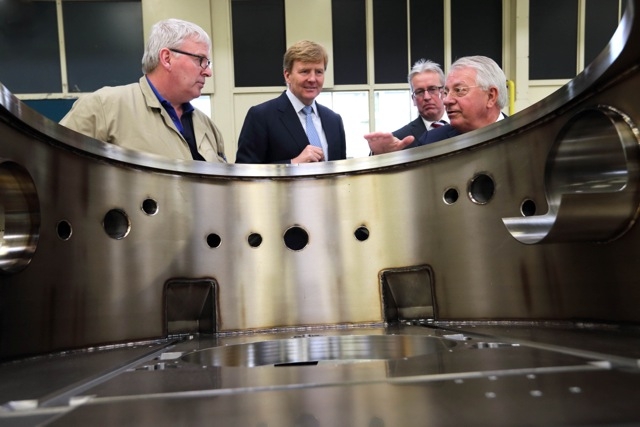 Prince Willem Alexander visits VDL-ETG in Eindhoven to see the EUV Source vacuum vessel - designed by SSvA.
Dutch text in Eindhovens Dablad related to the visit of the prince.
EINDHOVEN – VDL Groep is de terechte winnaar van de Koning Willem 1 Prijs.
Dat zei prins Willem-Alexander woensdag na zijn werkbezoek aan VDLMetaal in Hapert en VDL-ETG in Eindhoven. De prins zei erg onder de indruk te zijn van het bedrijf. "Ik heb gesproken met veel mensen in de bedrijven waaronder familieleden van de heer Van der Leegte. Zij vormen het dna van het bedrijf en ze zijn het kloppend hart van de industrie. Het is geweldig dat dit hier kan bestaan. De industrie is een groot goed, dat mag niet weg, daar moeten we alles aan doen." De prins zei het een goede gewoonte te vinden de bedrijven die de Koning Willem 1 prijs hebben gewonnen te bezoeken. In die hoedanigheid was hij ook al bij de Venco Groep in Eersel.
Topman Wim van der Leegte zei een goed gevoel te hebben over het bezoek. "De prins was open en wilde alles weten. Heb het verhaal van VDL goed kunnen vertellen en hij bleek overtuigd van het belang van onze bedrijven. Ik heb hem uitgenodigd om straks als hij tot koning is gekroond het startsein te geven bij de auto-productie bij VDL-Nedcar in Born en daar reageerde hij heel enthousiast op."