demanding product environments
In our Sensors & Systems expertise group, we focus on the creation of opto-mechanical and mechatronical systems and devices. More and more, sensors which are integrated in systems are used in demanding evironments, eg. in extreme temperatures, ultra-clean, vacuum, high-pressure, with reactive materials or gasses. Guaranteeing predictable behaviour and reliable performance in all circumstances is essential.
A sound understanding of customer applications and required performance combined with our technical knowledge and experience helps us to face the development challenge of our customers.
our team of experts
Our staff is specialised in the combination of world class knowledge of optics, mechanics and mechatronics in concept development, engineering, industrialisation, manufacturing and assembly. We invent, develop and manufacture sensors, devices, modules and systems for a wide range of applications in the high tech, medical and industrial fields. In addition to our own fundamental knowledge, we are familiar with many technologies available on the market. We use a wide range of tools in development such as CAD, FEM, Zemax, rapid prototyping, ESD-safe optical test benches etc. If required, we have direct access to specialist suppliers, for example in specific fields like high performance (anti)reflective coatings, filters or holograms.
PCP in our projects

We cover the full PCP (Product Creation Process) using a project oriented approach. Depending on the specific development question or goal, projects can start at different phases of the PCP. The end result is delivery on time, performance according to specifications, and manufacturing/assembly with a guaranteed quality level and product cost price. We develop products to be produced in small to medium volume. IP arrangements with our customers vary, depending on the scope and nature of the project.
manufacturing and testing facilities

Our facilities are equipped to manufacture, assemble and test. We do so for proof-of-concepts, prototypes, pre-series and volume production. We are able to carry out a rapid proof of principle in house, by combining off the shelf and custom made components (manufactured in house). This greatly helps the translation of the requested functionality into technical solutions in a short period of time.
three generations of our bandaging tool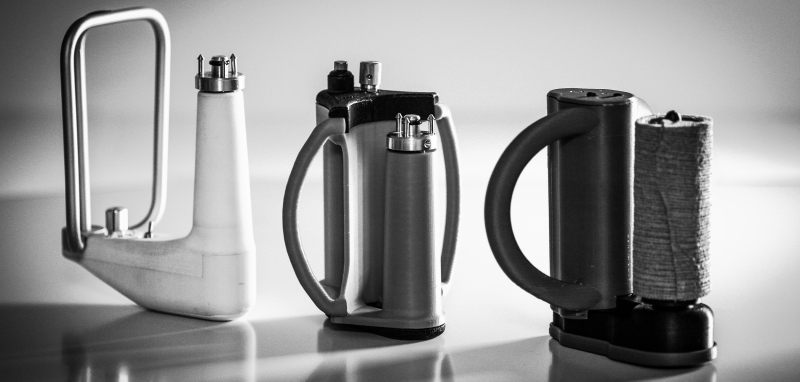 In our spare time, our development teams focus on finding solutions which make a difference in society. Thousands of people have to be bandaged every day under the supervision of a qualified nurse. By using our bandaging tool they can stay independent as long as possible, living in their own house. Our tool makes it possible for everyone to bandage legs with a predefined and controlled pressure - better than any professional.