solutions for technological challenges
Many of our customers are amongst the leaders in technological innovation. Increasingly, they are confronted with a growing complexity and a higher level of investment in innovation. We are proud to be their partners in supporting them in the selection of the most suitable, feasible and cost-effective solution for their challenges. Our broad expertise in understanding physical, mechanical and mechatronic processes allows us to help our customers unravel complex technological challenges and demonstrate that the selected solutions will work in practice. A good investigation process can contribute substantially to the reduction of risk of failure, delays and associated costs during development projects. The fact that we have been involved in many of our customers' technology breakthroughs fills us with pride. At the same time it also makes us eager to resolve the next challenging puzzle.
our team of experts

Our team of experts working in research & feasibility has a specific knowledge in the following areas:
predictable stiffness
low weight solutions
predicting and controlling dynamic and thermal behaviour in our designs
high pressure environments (100-1000 MPa)
ultra high vacuum < 1e-9 mbar and ultra clean vacuum solutions
using exotic materials
contamination control
design for high accuracy (<nm), static and/or dynamic
transferring research proof-of-principle concepts into proto-equipment
risk management (also in manufacturability and availability of materials and components)
From study to concept
In order to deal with technology challenges we help our customers with a wide spectrum of services to make the best choices for their innovation challenges. These services may comprise:
Literature and patent studies
Calculations
Analytical calculations of computer simulations and modelling (mechanical, thermal, fluid, optics)
Feasibility studies
Concept generation
Proof-of-concept / demonstrator development
IP development
We determine the appropriate mix of services by working in close cooperation with our customers.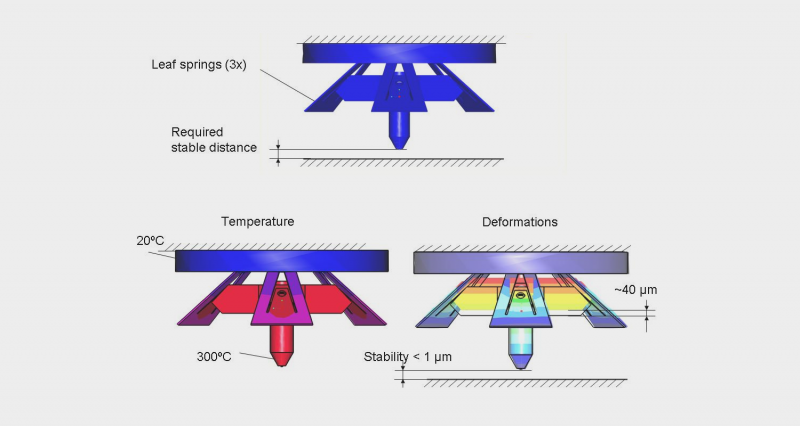 stability in print head position accuracy over a wide temperature range through clever and simple design
test facilities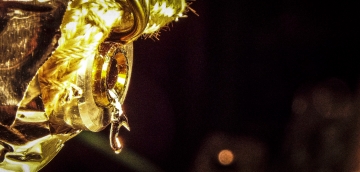 Our test and measurement facilities allow us to do experiments quickly in house. Our clean and controlled facility supports our work in various ways:
quick principle tests (e.g. alignment accuracy under specific conditions, repeatability),
material property tests (behaviour of a molten metal when flowing/splashing, corrosion effects)
lifetime tests
qualifying thermal or dynamic behaviour
etc.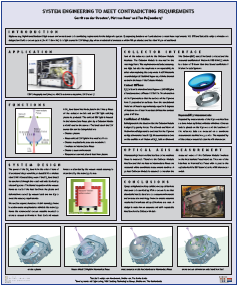 system engineering aspe-2012