Op weg naar de digitale werkplaats

3 March, 2 April and 12 May, Hengelo
Summary
Industry 4.0, Smart Industries, digitalisation in manufacturing is all around us. But what is the impact for midsized manufacturing companies and how do you prepare for it? Together with STODT we have organized three knowledge events around this subject.
For whom
General management, engineering and manufacturing management, manufacturing engineers, ICT managers
Time and location
3 March, 2 April and 12 May, at STODT in Hengelo
Registration
Click here for more information and registration
Get ready for CAM2.0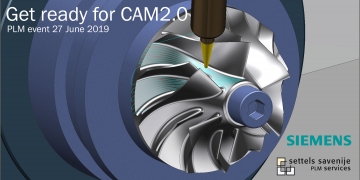 27 June 2019 - 14:45-17:30, Eindhoven
Summary
The only way to cut down your CAM programming lead time is an integrated approach of all required activities from checking the CAD-model till approval of the first article. At this event we explain you how to implement this CAM2.0 approach using the state-of-the-art NX CAM solutions. We show you how you can reuse PMI in Feature Based Machining.
For Whom
Management in Engineering and Manufacturing, Manufacturing Engineers, CAD/CAM key users, application managers
Time and location
Thursday, 27 June 2019 - 14:45 -17:30 at our premises in Eindhoven
Registration
You can register here