Go drawingless and benefit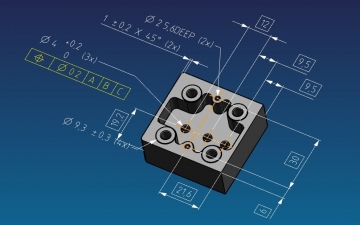 14 Februari 2019 -14:45-17:30, Eindhoven
Summary
Moving away from the drawing to Model Based Definition or PMI is not an easy one as we are conditioned to think in drawings. But MBD comes with many benefits. Especially manufacturing suppliers can benefit in CAM ad CMM programming. Learn in this event how to prepare for MBD and how we can help you to realize the benefits.
For whom
Management in Engineering and Manufacturing Engineering, CAD and CAM key users, Manufacturing Engineers
Time and location.
Thursday, 14 Februari 2019 - 14:45 -17:30 at our premises in Eindhoven
Registration
Registration will open soon
Get ready for CAM 2.0
4 April 2019 - 14:45-17:30, Eindhoven
Summary
The only way to cut down your CAM programming lead time is an integrated approach of all required activities from checking the CAD-model till approval of the first article. At this event we explain you how to implement this CAM2.0 approach using the state-of-the-art NX CAM solutions. One of our customers will talk about the company's CAD/CAM strategy to increase productivity and reduce lead times in parts manufacturing.
For whom
Management in Manufacturing Engineering, CAM key users and Manufacturing Engineers
Time and location
Thursday, 4 April 2019 - 14:45-17:30 at our premises in Eindhoven
Registration
Registration will open soon